Forever - clay sculpture - 2004 ongoing
Forever - clay pieces 2004 - ongoing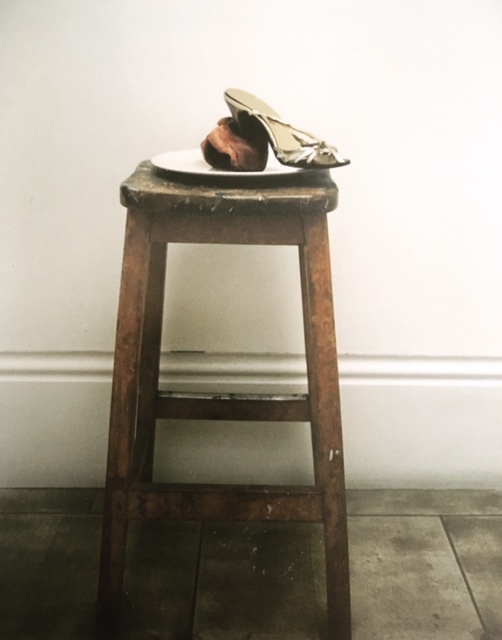 what I wouldn't do to you 1997 shoe, plate, stiletto, stool
what I wouldn't do to you (detail) 1997 pigs heart, shoe, plate, stiletto
Paper tent
I made this paper house whilst on an artists residency in Capellades - a paper museum close to Barcelona and the first manufacturer of paper in Spain.
Using clothes pegs and paper I was interested in the idea of home. For me - sheets hanging out to dry have always been a symbol of peace and reassuring domesticity. Being far from home I wanted to enclose myself. I also wanted to draw parallels between sheets of paper and sheets for the bed - housework and being a female artist.
"Message From Heaven" chair, answerphone message, light, 2016
an answerphone plays a recorded message from heaven, my Aunty Emmie speaking from the dead about being surrounded by Ghandi and Di (Lady Diana) and comforting me with her words of love in her broad Yorkshire accent.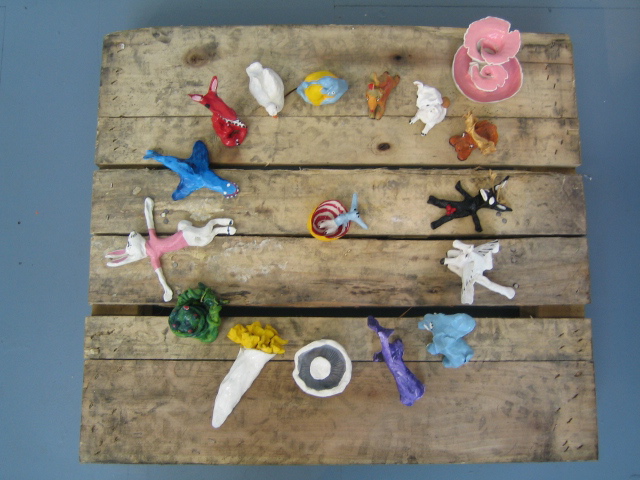 Clay creatures 2001
I made this series of animals over a period of a year. Each one emerged spontaneously.. They are made from Daz children's clay and painted with Humbrol enamel which I used as child.